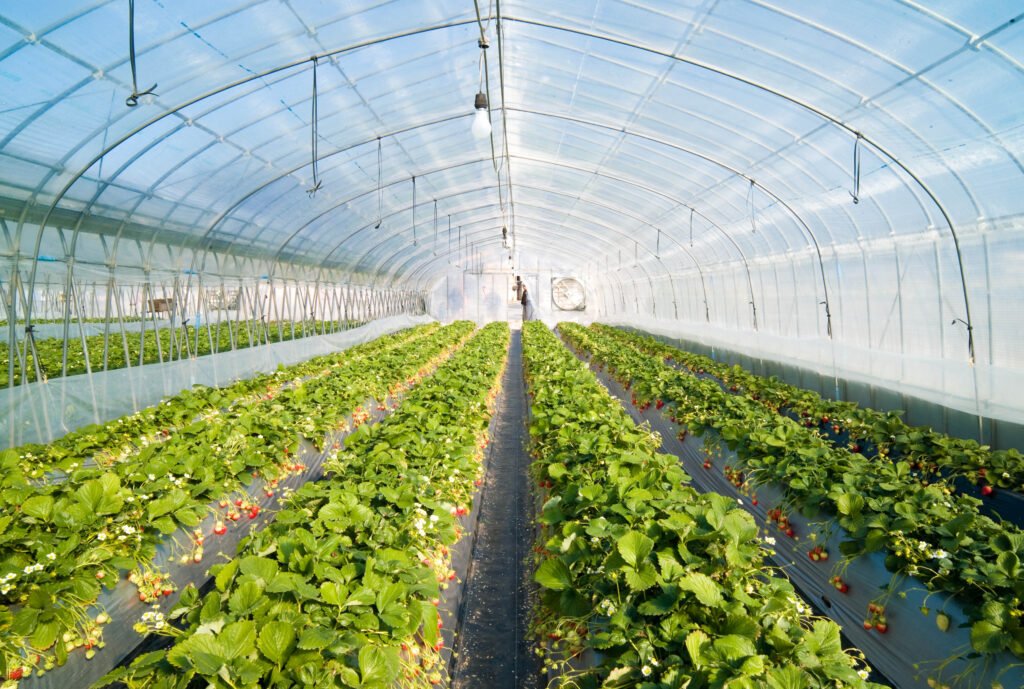 Case study
Automated Greenhouse System with Profound Analytics
We've developed an automated greenhouse system to help growers in EAME countries collect data and receive growing recommendations
Business challenge
Our client is Europe's leading AgriTech advisory company that provides guidance and technological innovations to farmers. One of their key customer segments is growers and agribusinesses from the Europe, Africa, and Middle East (EAME) region who rely on indoor farming solutions for growing crops due to severe climate conditions.
In the past, EAME customers manually collected greenhouse data and provided it to our client in Excel files for further analysis and recommendations. This type of data collection required a lot of manual work from growers, which resulted in delayed recommendations. This was problematic for EAME customers because any issues with indoor climate conditions require a fast response in order to avoid harming crops. Our client decided to provide a convenient way for growers to aggregate data from greenhouses faster using a web-based smart greenhouse application.
To develop an automated greenhouse system for monitoring greenhouses and subsequently giving accurate and fast recommendations to EAME agribusinesses and growers, our client needed a partner to support their additional R&D activities.
Having worked with BitsByteSoft on a wide range of agriculture software development projects, our client entrusted us with developing from scratch an automated greenhouse web app to accelerate data aggregation for easier greenhouse management, analytics, and growing recommendations.
Key features
Collect data on climate conditions in greenhouses
Analyze and visualize data within a web application
Create reports and histograms and send growing recommendations
Industry: Agriculture
Market: Europe, Africa, and the Middle East (EAME)
Team size: 5 engineers
Cooperation: 2018 – present
Technologies:
AWS / Node.JS / React
Solution delivered
We started development of a web app for convenient indoor farm monitoring and management by gathering requirements to solve the specific needs of EAME growers. During user research, we recognized the need to automatically insert collected data from new greenhouse monitoring software right into our client's unified farm management platform as well as to share data among growers to accelerate response to climate changes, improve seed development, and find optimal conditions for crop growth.
Our automated greenhouse system for monitoring indoor farms aggregates the following data on micro-climate conditions and timing that influence the growth of crops:
Date of seeding
Morning and afternoon time of data measurements
Daytime and nighttime temperature inside and outside of greenhouses
Humidity, moisture, and CO2 levels
Light efficiency and sun radiation effect
Soil, watering and draining measurements
Plant health and maturity
The monitoring and data collection process is powered by a comprehensive suite of tools and IoT connectivity provided by our client. The web app developed by BitsByteSoft aggregates data from connected sensors and transfers it to our client so they can apply powerful analytics and reporting tools to efficiently manage indoor farms and provide accurate recommendations on crop growth.
The automated greenhouses solutihttps://bitsbytesoft.com/anpr-based-automated-payment-solution/on includes a growing calendar where all growers can access mutually available data for monitoring smart greenhouse measurements and seeing how certain conditions impact the growth of a particular crop. This calendar has been transformed into six mandatory histograms based on critical measurements that each grower can monitor weekly. In addition, the solution includes a builder for custom histograms to monitor specific growing criteria.
Our client receives a large data sets from growers in one comprehensive spreadsheet so they can analyze data and provide recommendations to each individual grower via the app or some other convenient method.
Main features of our client's automated greenhouse system for EAME customers:
Web app for simplifying the input, visualization, and analysis of greenhouse data
Mandatory annual data entry of climate figures and plant registration, plus comparison with other group members
Calendar for adding new periods and entering averaged weekly data into an all-in-one spreadsheet to give users a unified view of all metrics
Histogram reports and analysis with six mandatory histograms and a builder for additional histograms as needed
Wide exporting capabilities
Generation and distribution of accurate recommendations to growers
Business outcome
Our client now automatically receives greenhouse data from EAME growers, simplifying analysis and recommendation processes as well as minimizing human error. With our solution, end customers can now solve their challenges of manual work and save a lot of time and effort that they can instead focus on business and performance improvements, increasing customer satisfaction, and ensuring sustainable indoor vertical farming solutions and practices in areas with a difficult climate for cultivating crops. Let's work together on your
next project
Drop us a line about your project at contact@bitsbytesoft.com or via the contact form below with attachments, and we will contact you within a business day.
[contact-form-7 id="327″ title="Contact form 1″]